LA FINE EQUIPE : What Eva Ft. Mr. J. Medeiros
12.12.18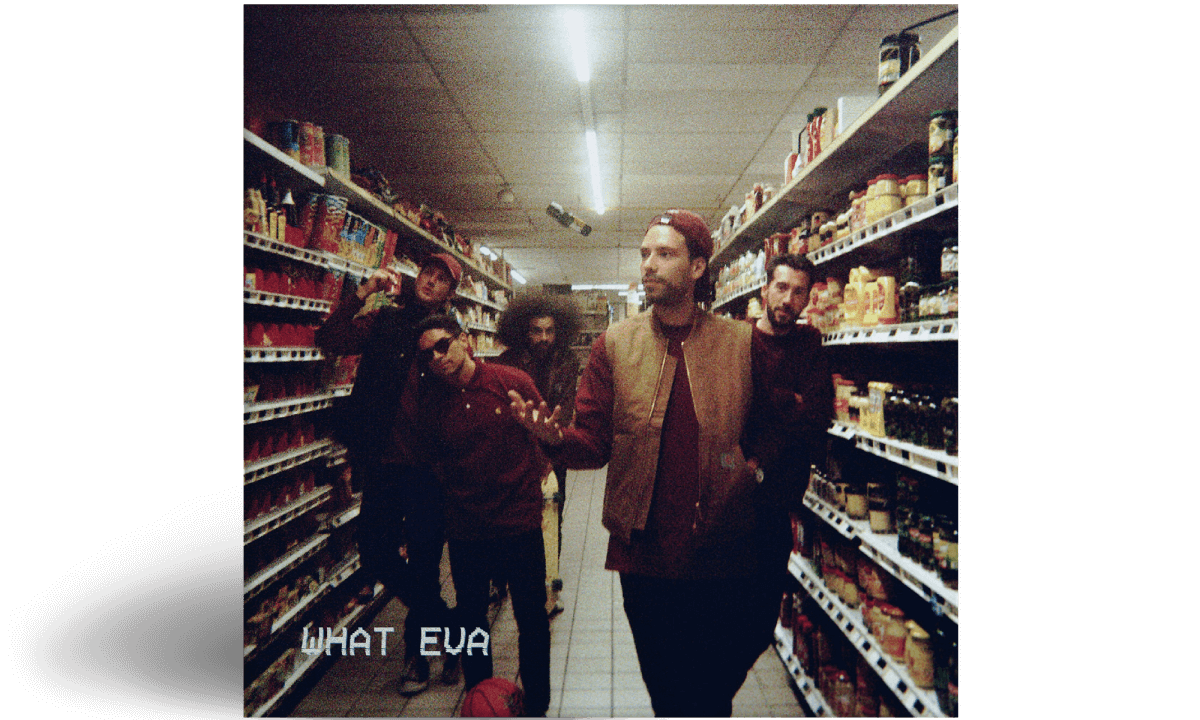 New 90s inspired video for 'What Eva' ft. Mr. J. Medeiros out via Nowadays Records
Rising French electronic collective and label owners, La Fine Equipe, are pleased to announce details of a brand new visual for 'What Eva' ft. Mr. J. Medeiros released through Nowadays Records on December 12th.
The director detail the video: "We wanted it to look like a 90s VHS that was put on the VCR. Part of the charm was its fuzzy, imperfect look so apparent during that era. 'What Eva' embodies a strong DIY ethos and we the band, did most of the filming ourselves using a small handheld camcorder. Everything was filmed on location in the supermarket. There are no 3D models. The song and visual is also a homage to the strong visual elements often found in 90s music videos like Mc Solaar's 'New Western' and French hiphop outfit IAM's 'Je danse le Mia'. There is a surreal sequence in the video where we are surrounded by a kaleidoscopic display of supermarket products.
To summarize, we had a complete blast filming this".
La Fine Equipe are strongly influenced by hip-hop royalty like J Dilla, Mos Def and Madlib. The four French beatmakers, Oogo, Chomsky, Mr, Gib and Blanka from (Marseille and Paris collectively continue their journey with a new album due in March 2019. The group's debut album, 'La Boulangerie', attained cult status and propelled the band into the mainstream consciousness. This led to the release of three more critally acclaimed albums 'Fantastic Planet' (2010), 'La Boulangerie 2' (2011) and 'La Boulangerie 3' (2014) and the creation of celebrated electronic label Nowadays Records that recently celebrated their 5 year anniversary with a special 23 track compilation 'Nowadays V' featuring label signings like Fakear, Clement Bazin, Robert Robert and more.
La Fine Equipe have also taken their hi-octane live shows across Europe including festivals like Les Vieilles Charrues, Dour, Les Francofolies, the Printemps de Bourges and the Couleur Café festival and a mini tour of Asia. The band also won the Deezer Adami Award and glowing reviews in tastemaker press like Arte, MixMag and Boiler Room, who invited them to be part of their legendary Boiler Room Sessions in Paris and London.
Mr. J. Medeiros is an American rapper, record producer, and songwriter. As well as releasing music under the name, Mr. J. Medeiros, he is responsible for forming the Hip Hop group The Procussions, is one half of the Hip Hop/Electronic duo AllttA created with 20Syl (C2C, Hocus Pocus), and the lead singer of Punk-Rap group thebandknives.
On this track he gives us an effortless demonstration of a sharpened flow which is getting better and better through the years:
Writing "What Eva" took me back to the boom-bap age of Hip Hop and gave me a chance to do some "braggadocio" raps while infusing it with my more current style through out, a mix of nostalgia and lyricism.
Le quatuor qui s'est fait connaître au travers des trois albums de La Boulangerie revient avec "What Eva Ft. Mr. J. Medeiros", premier single du premier album entièrement composé par oOgo, Chomsky, Blanka et Mr. Gib.
Devenus ambassadeurs de la scène beatmaking, ces quatre chimistes mêlant hip hop, house et électro nous prouvent que l'attente était justifiée, et que la machine est à nouveau lancée.
Pour fêter ça, Mr. J. Medeiros rappeur, producteur et songwritter américain se joint à la Fine Equipe. A l'origine de la création du groupe The Procussions, il forme également le duo AllttA avec 20Syl (C2C, Hocus Pocus) et est le chanteur du goupe de Punk/Rap thebandknives.
A propos de sa participation au morceau:
Ecrire What Eva m'a ramené à l'ère du Boom Bap et m'a donné l'opportunité de faire du rap "braggadocio" tout en y mêlant mon style actuel pour un résultat entre nostalgie et lyrisme.
A propos du clip:
« C'est un peu la VHS de 1998 qui trainait, posée sur le magnétoscope. Cette cassette aléatoire sur lequel il y avait un bout d'une session de skate, des clips du Wu Tang enregistré sur MTV, les 20 dernières minutes de space Jam mais sur l'étiquette il y avait marqué "Eurovision 96".
La bande a tellement été regardée qu'elle en est grésillante. L'image est imparfaite et quelques glitchs apparaissent ça et là mais c'est ce qui fait aussi son charme.
What Eva a aussi un côté DIY complètement assumé. On y voit les membres de La Fine Equipe monter eux même le décor et shooter une partie du clip à l'aide d'un petit caméscope. De la même manière les incrustations fond vert sont uniquement réalisées avec des produits du supermarché. Il n'y a pas de modèles 3D.
What Eva c'est aussi un clin d'oeil aux clips avec un gimmick visuel fort comme on pouvait en trouver dans les années 90 (Mc Solaar – Nouveau Western, Iam – Je danse le M.I.A – Gondry). Cela se matérialise ici par un plan séquence dans cette allée de supermarché interminable dans laquelle les artistes se répètent à l'infini à l'image des produits qui les entourent.  
Pour résumer, on s'est bien marrés en tournant ce clip!. »  Romain Cieutat
28.02 – Les Hivernales – Nyon (CH)
02.03 – Shaker Festival – Ploneour Lanvern (29)
14.03 – Le Pôle Étudiant –  Nantes (44)
15.03 – Le Rocher de Palmer – Bordeaux (33)
16.03 – Garosnow –  Luchon Superbagneres (31)
29.03  – Radiomeuh Circus festival – La Clusaz (74)
03.05 – Les Nuits Botaniques – Bruxelles (BE)
07.05 – TBA – Paris (75)
25.05 – NL Contest –  Strasbourg (67)
28.06 – Catalpa festival – Auxerre (89)